WE CAN HELP YOU REMAIN CONFIDENT
IN YOUR APPEARANCE.
At Splitenz we are completely dedicated to providing the best possible custom wig experience for not only our Hunterdon County clients but for all those seeking professional wig services throughout New Jersey.

We specialize is assisting men and women experiencing hair loss, providing both high-quality products and expert-level consultation to determine the best solution for your individual situation.
We understand that being prepared both physically and emotionally for hair loss is important for maintaining your well-being and we are here to help. Zee, Owner of Splitenz Salon, is our certified hair loss specialist with decades of wig experience and will work directly with you. Her goal is to truly help and make a difference. Our focus is not on selling a wig but rather treating each client with kindness, compassion and understanding so they feel confident moving through hair loss with the experts by their side.
The process of wig selection begins with a free consultation in a private room where you will have the opportunity to try different styles and colors. If you seek to match your current color and style we can style, shape, and fit the wig you chose so the transition from your hair to a wig will be seamless. Or maybe you are seeking a new look altogether; either way Zee will help you select the perfect wig for you while also providing education on wig construction care. At this appointment we will also address any questions and concerns you may have.
We pride ourselves in carrying a selection of high quality Synthetic and Human Hair wigs that provide a natural look with a variety of cap constructions including open top, monofilament and lace front styles. We also offer a selection of toppers, crown fillers, bangs, and decorative ponytails for anyone that is experiencing site specific thinning and hair loss.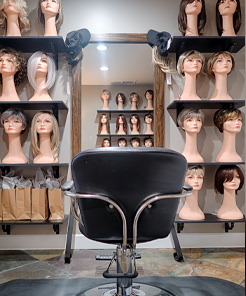 Splitenz makes a perfect addition to the other experts helping you through your hair loss.

Whether you are diagnosed with alopecia, cancer, a genetic disorder, any other medically or lifestyle choice induced hair loss you will find the professionalism and knowledge you seek at Splitenz Salon Studio.